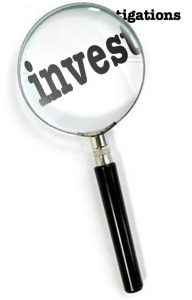 Beside the investigative work my team and I undertake for radio documentaries, we also produce carefully edited conversations with people of interest to private clients.
These interviews are known in the risk management business as source inquiries. In CIA jargon they are called Humint. No, we are not spies or private detectives. We produce good, honest reporting, much like I've been producing as a journalist for most of the last thirty years. The difference is that these reports are not for the general public, but for our clients' eyes only. And they tend to contain more detail than most journalistic reports, with lots of footnoting.
Clients require these investigations for various reasons. They may be legally obliged to undertake due diligence or KYC (Know Your Customer) ahead of a business deal. We speak to people who know the counterparty: its owner, its executives and board members. We ask about their competencies, their management styles, their goals and objects and their reputations. Our job is to help the client get to know who exactly they will be dealing.
Some clients have more specific requirements, like understanding the implications of a new regulation on a business, the effects of a change of management or whether we can confirm claims of corrupt. The client may have entered into a business arrangement that has turned bad. A partner may have unexpectedly declared bankruptcy. We investigate human rights violations, labour conditions, environmental issues and more.
Figuring out who might be a good source for information then tracking them down, convincing them to talk and accurately reporting what they say in a way that is clear and easy to read — this is what we take pride in.
We don't work in secret. Our sources always know who I am and how they can contact me. But, our clients may not want the subject to know that we are investigating them. It might set off alarm bells if, for example, the client is considering a buyout, or if the subject is suspected of wrongdoing. So we carefully look for sources who are not in daily contact with the subject and thus unlikely to inform them of my call. On the other hand, if the source is not in close contact with the subject they might not be able to tell us something we don't already know. We're pretty good at making the right choices.
Our reports are in English but I also conduct the interviews in French and German. We mostly operate out of Berlin Germany and Accra, Ghana but our location is pretty irrelevant. Our subjects may be located anywhere in the world.
Clients tell us our reports are more in depth than those of our competitors. Other source inquirers summarize conversations. We, on the other hand, provide clients with every word — even every sigh and laugh — if we think the client can gain useful insights. We also check that what sources say is accurate and include that in footnotes. But we don't include repetition and we often rearrange the content of conversations so that the client can quickly and easily absorb what is being said in a way that is not only informative but engaging and even entertaining.
If you are interested in our services, do contact us.
David Hecht